DISCLAIMER: This Small Farm Business article and video should not be used to replace legal or professional counsel. Use your brain, know your pocketbook, and make sure that at least one of the two has something in it at all times ;).
With the close of my first livestock sale, I have one full year of expenses and income under my belt. I am now ready to analyze profitability of my sheep farm. I have data from all 4 seasons, I have infrastructure costs, and now I have income from my first livestock sale. With the aforementioned, I have everything necessary to evaluate the profitability of my sheep farm.
The size of an operation has little or no connection to it's overall profitability. In business the term "scaling" is used a lot. Scale is just another word for size. If you can be profitable on a small-scale, you can be profitable on a large-scale. If you cannot generate a profit on a small scale, you will not do so on a large scale.
The profit analysis I am getting ready to outlay is from my small-scale sheep farming operation. This season I had only 16 productive ewes. My ultimate goal is to have 80 productive ewes on my sheep farm.
It is critical that I evaluate the profitability of my farm at this 1/5 scale. If I can hone in on profit margins and streamline my costs I will have a solid foundation for moving forward.
I have a trademarked slogan for my farm business: Think big, start small, don't quit. It really breaks down into a business formula: Set your large-scale goals, test it out it on the smallest scale possible, then put in the work necessary to grow that small success.
---
My 4-Step Process for Determining Profitability:
Here is how I analyzed my farm's profitability in 4 steps:
Step 1: I took all of my expenses to date and split them into 7 major categories.
| | | |
| --- | --- | --- |
| Category: | Description: | % of total: |
| Farm Infrastructure | Compensation for sheep-specific the perimeter fencing (woven wire), Electric Fencing system, Sheep Chute, Sheep Trailer, Portable Troughs, etc | 50.40% |
| Cost of Livestock | Initial purchase of 25 ewes, sourcing and travel for a registered ram, a small set of registered ewes, and Dorper Sheep Breeder Society Membership and Registration. | 40.40% |
| Animal Health | Lambing Kit, Hoof trimmings supplies, dewormers, a setup for taking fecal egg counts at home, mineral boosters. | 4.70% |
| Overwintering: | Hay, Protein Supplement, Minerals | 1.80% |
| Feed Supplement: | Year Round Minerals | 1.10% |
| Books/education: | Grazing Management Books | 0.80% |
| Marketing: | Website Hosting for ShepherdessDorpers.com | 0.70% |
Step 2: I adjusted my cost sheet to reflect depreciating assets only, removing the cost of appreciating assets (livestock).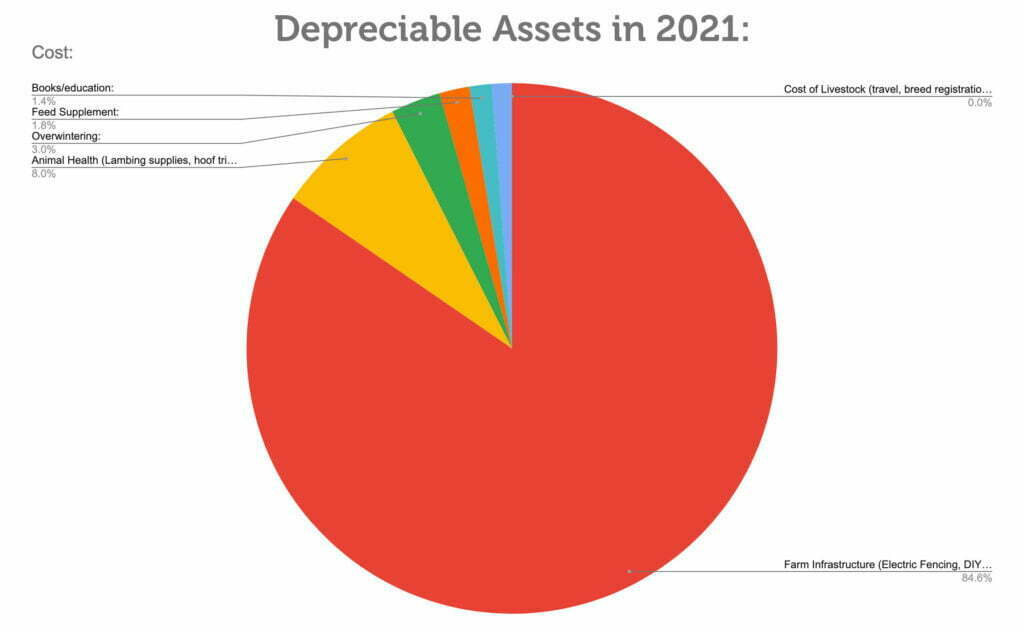 Depreciable assets are things that will decay over time. Whether it is in 1 year or 25 years, all of the things in my Farm Infrastructure category will have to be replaced at some point.
Appreciating assets are those that increase in value as you own them. My ewes are appreciating assets because they produce lambs every year. Unless I have a devastating predator attack or disease hit the flock (both of which are actual risks I pray against regularly [you can pray with me if you want… haha! But I'm serious.]), my flock should only grow.
If a ewe dies (or is culled) and the flock does not generate a replacement for her during lambing, I will list the initial cost of that ewe under expenses for that year.
Step 3: I divided the cost of the Farm Infrastructure (depreciable assets) by 7, assuming that all of the farm infrastructure will decay within 7 years. This amount, plus the cost from all of my other categories amounts to the total expenses for 2021.
Step 4: Acknowledge the value of "reinvested capital gains" (for me: ewe lambs that increase flock size) and add this to the cash-revenues. I had a net increase of 7 ewes this season (I had 9 ewe lambs total, however 2 of my mature ewes died). I am working to grow my flock to 80-ewes. Instead of collecting cash on these lambs, I reinvested my "gains" back into the flock.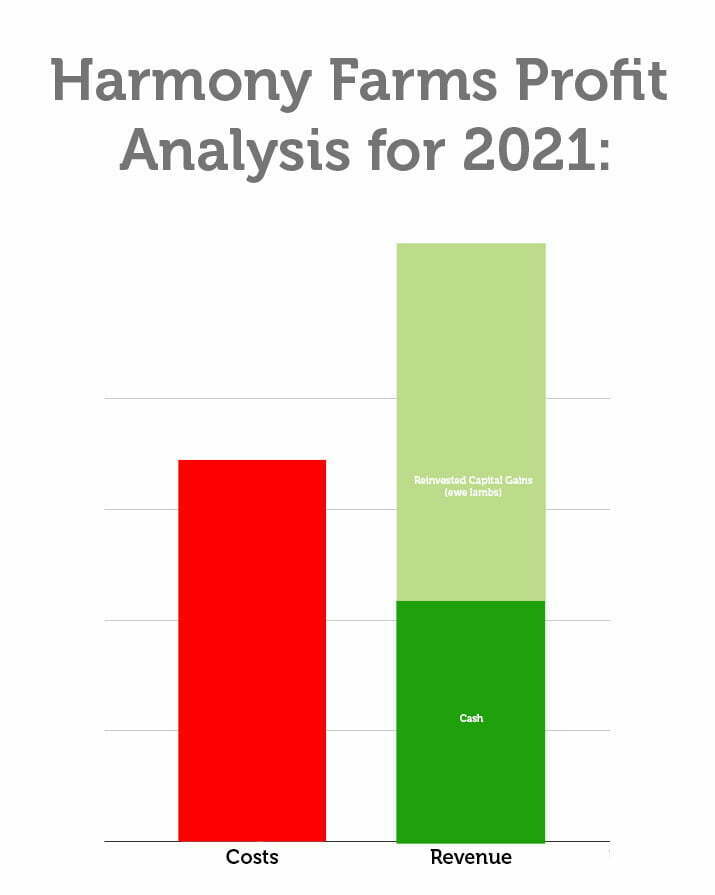 With the inclusion of my "reinvested capital gains" revenue from my sheep farm exceeded cost by 36% in 2021!
While this year technically involved shelling out 10x more cash than I received from my operation, there is significant profitability in my pasture based sheep farming model… if I can stick it out to the end of 7 years! 90.8% of the money I have spent will not have to be spent again and the remaining 9.2% are recurring costs that can be trimmed with experience.
This does not include the cost of my labor. This is an average of 12 hours per week and is a further investment in the farm.
Thanks for reading my 2021 Sheep Farm Business Profit Analysis. I look forward to seeing you in 2022!
-the Shepherdess
"I am the LORD your God, Who teaches you to profit, Who leads you by the way you should go." Isaiah 48:17