Early in 2020, I decided I wanted to raise Grass Fed Beef Cattle for a profit. The problem was, I had no previous experience with livestock… in fact, I had never owned anything larger than a hamster in my entire life. Raising Grass Fed Beef with no previous experience? Crazy, maybe. Impossible: NO! This post outlines all the info I gathered to buy the right breed of livestock for my first shot at raising grass-fed beef! I hope this will help you get started in your grass-fed beef cattle journey.
Good genetics = the first step to raising the best grass fed beef!
"What?? I can't buy just any old black and white dairy cow and finish it on grass??"
Apparently not.
When shopping for cow or steer that will become your grass-fed beef, you want to make sure your cow or steer is genetically fit for producing quality beef on an all-grass diet.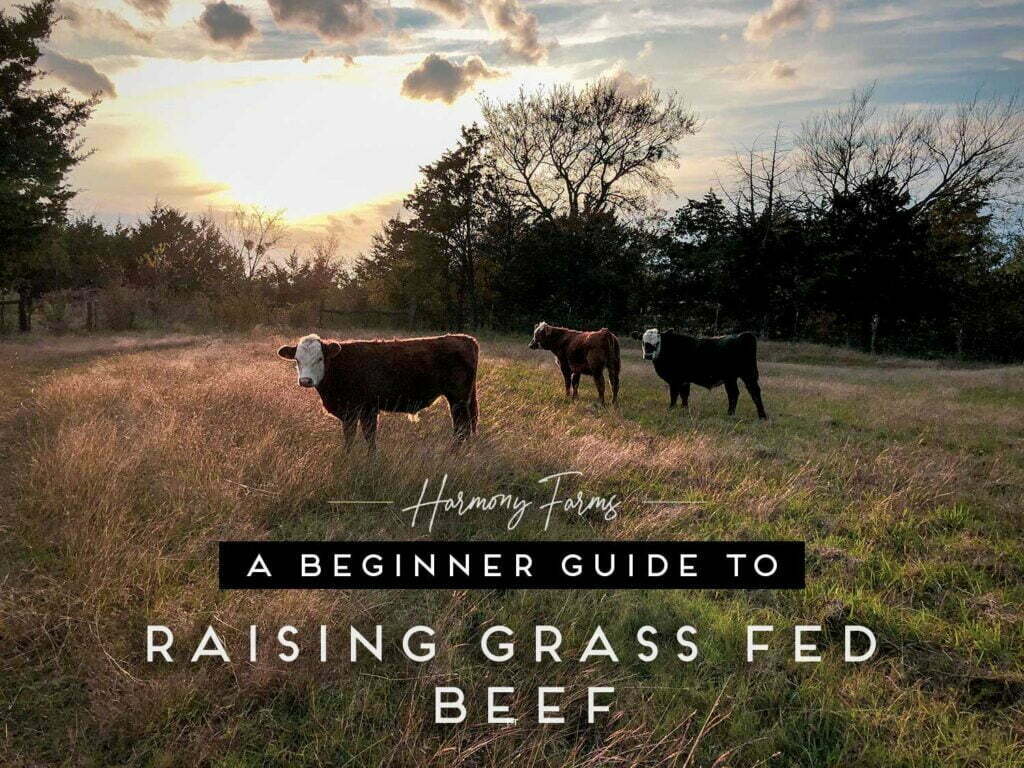 The following attributes make a cow or steer eligible for a quality grass-fed to finish program:
✅English Breeds such as Angus or Hereford.
✅Small frame.
✅Short legs.
✅Beefy hind quarters.
✅Born in the spring when the grass is best! (because you will be finishing 2 years later on that same grass)
✅Private sale where you can visit the ranch and ensure the cattle is on a grass-based diet from birth.
AVOID THE FOLLOWING when shopping for a cow or steer to grass finish:
🚫Continental Breeds such as Brahman or Longhorn.
🚫Large frame.
🚫Long legs.
🚫Born mid-summer or winter.
🚫Buying at a venue (sale barn) that provides no information on the cattle's origin or upbringing.
As a first timer raising Grass Fed Beef, Should I buy Stocker Steer or a Cow Calf Pair?
When I began researching how to raise grass fed beef, my question was: "As a first-timer, should I buy a cow-calf pair or a Steer?"
I chose to purchase Stocker Steer as a first timer raising grass fed beef. Here's why:
Stocker Steer are castrated bulls/male calves that are between 6 and 9 months old. These steers are low maintenance and do not require a long-term commitment. When buying a stocker steer, you do not need much (or any, as is my case) experience in livestock handling. A good quality Stocker steer will come with all of the vaccines and antibiotics already administered. You will need to deworm every 6 months or so, but besides this, there are no major handling needs involved when raising a stocker steer for grass-fed beef.
The stocker steer option was perfect for me as a beginner (and a girl!) raising beef cattle for the first time. Buying stocker steer meant I did not need any experience in animal handling to start raising grass-fed beef! Furthermore, with a stocker, steer the time to slaughter is only around 18 months; versus 24-36 months if I were to buy a bred cow or cow-calf pair.
If I would have chosen a bred cow, or cow-calf pair, I would have to deal with calving, weaning, medicating, vaccinating, and so on. This is a lot of work for a beginner. What's more is that if I were to choose a cow-calf pair, my time to slaughter would be up to 36 months. Then I would have to deal with things like: what would I do with the mama-cow when the calf is born? How would I breed her again with no bull? What would I do with the mama-cow if I decided that beef cattle wasn't a good fit for me?
Buying a stocker steer was the best option for me as a beginner raising grass-fed beef.
And that's what I did! I bought three Herford-Angus steers to raise grass-fed beef for the first time. These steers were born in May which means that when I am ready to finish them, my grass will be growing like crazy… which is super important for a grass-finished beef (obviously!).
I bought my steers from a regenerative-rancher, Mr. Karl Ebel, who lives about 15 miles from my farm. Mr. Karl Ebel is the owner of Ebel Grasslands Ranch. These steers were born and grazed on Ebel Grasslands Ranch which is actually a Native Tall-Grass Prarie Conservation.
Harmony Farms Grass-fed beef is born and grazed on Native Prairie: I don't think I could have asked for a better start to my grass-fed beef operation!
---
"With men this is impossible; but with God all things are possible."
Matthew 19:26
---
Special thanks to Karl Ebel of Ebel Grasslands Ranch for his time and consulting throughout this process. Much of the info above is from this consultation.